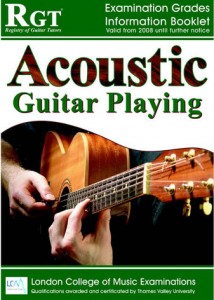 Did you realise that you can now take officially accredited and internationally recognised exams in acoustic guitar playing?
The Registry of Guitar Tutors (RGT) offer 10 acoustic guitar playing exam grades, ranging from Initial Stage (for beginners) up to Grade 8 (for aspiring professional musicians).
A range of professional Acoustic Guitar Teaching Diplomas is also available.
These exams offer a formal recognition of the specific talents of acoustic guitar players. The exams include options for both fingerstyle and plectrum players.
You can download a free Exam Information Booklet to see the requirements of each grade.
What Happens During An Acoustic Guitar Grade Exam?
The examiner will begin by asking you to play a selection of chords and scales.
The examiner will then ask you to play through your chosen studies and/or pieces (you have the option to play melodies and pieces of your own choosing).
At Grades One to Eight, the examiner will ask you a few spoken questions to test your knowledge of the instrument and the music performed; this is followed by a test to assess your accompaniment skills (by playing through a chord chart while the examiner plays a melody).
From Preliminary Grade onwards, the exam will conclude with the examiner testing your 'ear for music' by giving you a selection of aural assessments.
Why Should I Take An RGT Exam?
You will gain an internationally recognised qualification.
You will find out, via a reliable and independent assessment, what standard your playing really is.
It will help you achieve your playing potential by setting yourself a clear target to aspire to.
Preparing for the exam will help you develop all aspects of your playing in a structured way, increase your knowledge of guitar techniques and music theory.
Acoustic Guitar Exam Handbooks
RGT publishes a course handbook with CD for each acoustic guitar grade that provides explanations and examples of all the information required for the exam.
There is no requirement to read traditionally notated music as all music is written in easy-to-read TAB, as well as traditional notation.
CD examples are provided so you can 'listen and learn'.
This series of Handbooks provides a structured and comprehensive method of studying the acoustic guitar.
They are available online at www.BooksForGuitar.com.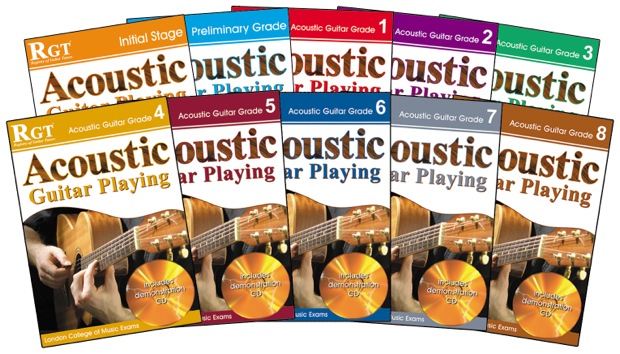 How Do I Enter For An Acoustic Guitar Exam?
RGT is the only examination board to offer fully-accredited acoustic guitar playing exams.  RGT has been organising  guitar exams since 1992. These are held in numerous countries all over the world.
You can study from home using the RGT handbooks, or with a local guitar teacher. An exam entry form is provided with every exam handbook.
Once this has been submitted, you will be given an exam appointment date and time at the nearest RGT exam venue to your home address.
Acoustic Guitar Performance Awards
Acoustic Guitar Performance Awards focus entirely on the performance of prepared pieces, and provide an alternative for those who prefer not to take a full grade exam.
Performance Awards can be performed at an exam centre, or alternatively candidates can submit a video or audio recording of themselves playing the pieces.
See the RGT Acoustic Guitar Performance Awards webpage for more information.