5 Easy Fingerpicking Patterns For Guitar
When first learning how to play the acoustic guitar, one of the techniques that many of us are drawn to is fingerpicking. But, where do we start when first exploring this idea in the practice room?
To help you begin your exploration of this fun and important acoustic guitar technique, we've put together a collection of five easy fingerpicking patterns that you can learn, apply to songs and expand up in the practice room and in jam sessions.
Though you can pick and choose which patterns you want to learn and apply to your own playing, when first studying the fingerpicking patterns in this lesson try and go through them in order, as each new pattern builds on a previously learned fingerpicking pattern. read full article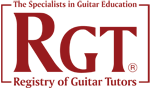 This site is sponsored by the Registry of Guitar Tutors www.RGT.org